Dragon resume is a resume writing service that was formed by a collection of executive recruiters who believe they have what it takes to produce resume employers would find irresistible. Providing services for over 20 years. They go over candidates resumes seeing if it conveys the information required and how they can apply their own skills to make it look better to recruiters or better yet, write one for them.
Quality:

(

4.0

/

5

)

Prices:

(

3.0

/

5

)

Guarantees:

(

3.0

/

5

)

Reputation:

(

2.0

/

5

)

Support:

(

2.0

/

5

)

Average:

(

2.8

/

5

)
The website is attractive and good to look upon but there could be more with the right application. Not least because it is a professional service that makes a candidate the center of its focus. It's fairly easy to navigate the website and it has a feedback box where people can ask their pressing questions or leave a review. Their privacy policy is quite the eye-opener too with dragon resume reviews not offering refunds on resumes that have been delivered to those who've paid for the services. Further, they state clearly their ability to conduct fast interviews and present their users with more opportunities to get jobs.
For what it's worth, they have claims on making users happy, who then keep the chain going as they make referrals to friends and colleagues about the resume service they've come across. But this may be far-reaching especially when it's pretty much difficult to lay a firm grasp on what a company really wants.
Dragon Resume Services and Quality Overview
As far as the services of dragon resume review go, you can count on them to deliver within the time-frame. You'll have a resume in your hand alright but the same can't be said for the quality. It's above average at best and fit for purpose but considering the fact that it's paid for, you'd want every content to be top-notch. Again, they're a reliable source you can count on if you're pressed for time but that's just about it. Some of the services they offer:
Customized cover letter

A 30-minute resume strategy session

Resume posting services
Prices and Discounts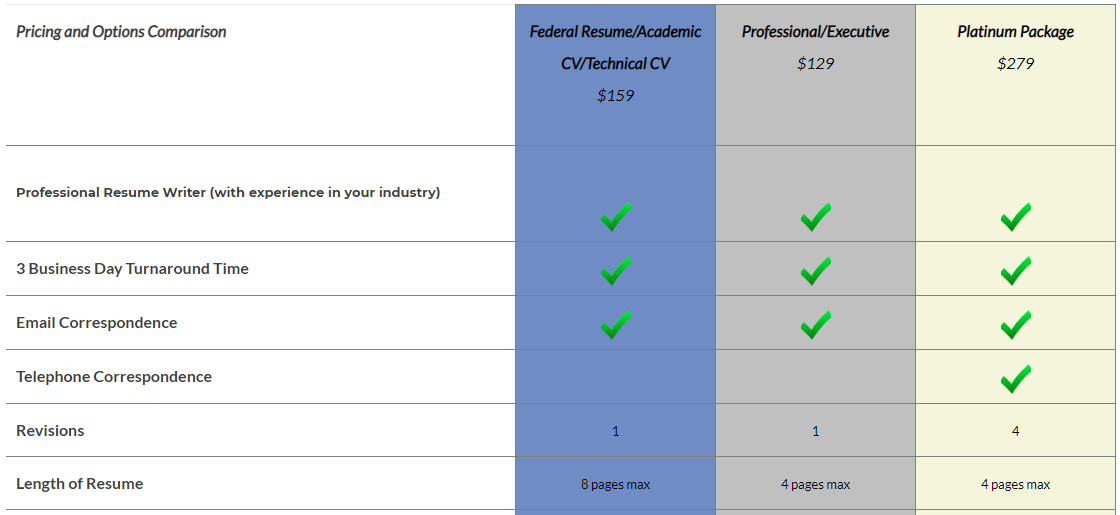 With prices ranging from at least $40 to $280 depending on the services you are looking to pay for, things don't come as cheap as one would expect. Further, going through their price range reveal no discounts although they have add-on services (for premium subscribers) that could come in handy.
Guaranties DragonResume
Potential employees all want a resume that helps them make the best of their chances at securing a job. To that end, they go as far as demanding guarantees. While that's not out of the question, dragonresume offers no guarantees on some fronts including attaining a job interview, or that if you do get a call for one, you'd be offered the job. Furthermore, it's not uncommon to have employers hire who they deem fit for the job or have preferences based on preconceived notions. You're not guaranteed the following in line with any package you choose:
That a job offer will come about

Interviews from prospective employers

Specific success in your job search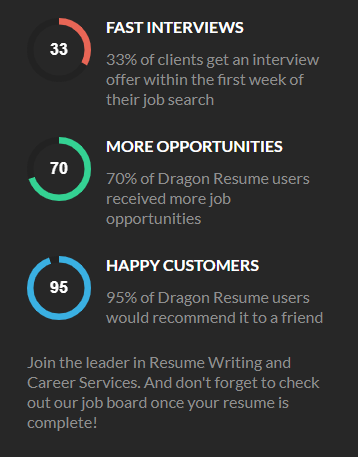 By virtue of using such services, you and Dragon have an agreement that there are no guarantees especially on the points mentioned above.
Online Reputation of Dragon Resume
From the reviews online and the responses of customers who have used Dragon's services, in a star rating of 5, Dragons best rating will come in at 3 stars. That's because of the few reviews online which shows that it's not as highly thought of.
Deadlines
Our team had no issues with Dragon as they kept to the deadline but seemed to exhaust every hour within the time-frame.
Support at Dragon Resume
Reviews of dragonresume show that users enjoy an embedded live chat feature that helps them get answers to their queries. But of course, the most important thing is how much you can rely on them to give you the best resume. On the strength of that, Dragon is good enough.
As a customer, you can also reach them via other means including calls and emails (on their website). They have a support system to help you with problems you experience when you apply for a job or try to reach them.
Usability Dragon Resume
With any website, users and indeed customers appreciate is an easy tool to help them arrive at results immediately. Dragon does that with its ease of navigation and being comfortable with other devices.
On the homepage, you'll find there's a feature on the top right which you can click and leads you to other aspects of their services. Also, a little scroll down reveals an introduction to their services or information about why you should give them a try. As mentioned above you can ask questions with the box provided below while the login or 'get started' features are easy to use.
Conclusion
On the whole, potential clients would have a satisfactory feel using this resume writing platform. But, should expect nothing extraordinary bar the dragon resume promo code which slashes the prices of some of its services.
Top-Rated Resume Writing Services

| | | | |
| --- | --- | --- | --- |
| 1. | | Rating 4.9 | |
| 2. | | Rating 4.5 | |
| 3. | | Rating 3.8 | |