LiveCareer.com is an online resume builder portal. Here, job seekers and students can build their own Resumes and cover letters by using the available tools. In case you need even more professional help, you can also hire the experts available who will create the needed CV, cover letter or thank you letter for you. Keep reading to find out plenty of important aspects about this company. We have thoroughly tested and reviewed the entire site, so that you can make a well informed decision when hiring help.
Quality:

(

3.0

/

5

)

Prices:

(

5.0

/

5

)

Guarantees:

(

4.0

/

5

)

Reputation:

(

3.0

/

5

)

Support:

(

2.0

/

5

)

Average:

(

3.4

/

5

)
Website Overview
In our opinion, Livecareer has a professional looking website. However, we consider that the site does not contain too much relevant information. We couldn't find any information regarding the professional background of the writers, or an explanation on how to use the available tools. If you need immediate help, you cannot even ask an expert because they do not have the live chat option on the site.
Services and Quality

Live career puts at your disposal a great variety of services and packages. The problem is that you might find it difficult to select the appropriate package. They did not organize in a logical manner their services and packages so the selection can be a little complicated. Here are the main types of services they offer:
Professional service package – here, they promise that you will get an interview within 30 days from using your new Resume/ CV
Executive services package – in our opinion this package is mostly intended for higher management professionals such as lawyers, physicians, or people working in the management sector of a company
Cover letter writing – services recommended for anyone who needs a creative cover letter. Such letters are generally required to accompany a Resume when you apply for a job. Cover letters are mostly representative for the young generation of job seekers.
They also have an entry level package – again, intended for job seekers with less than 3 years of experience in their field.
Prices & Discounts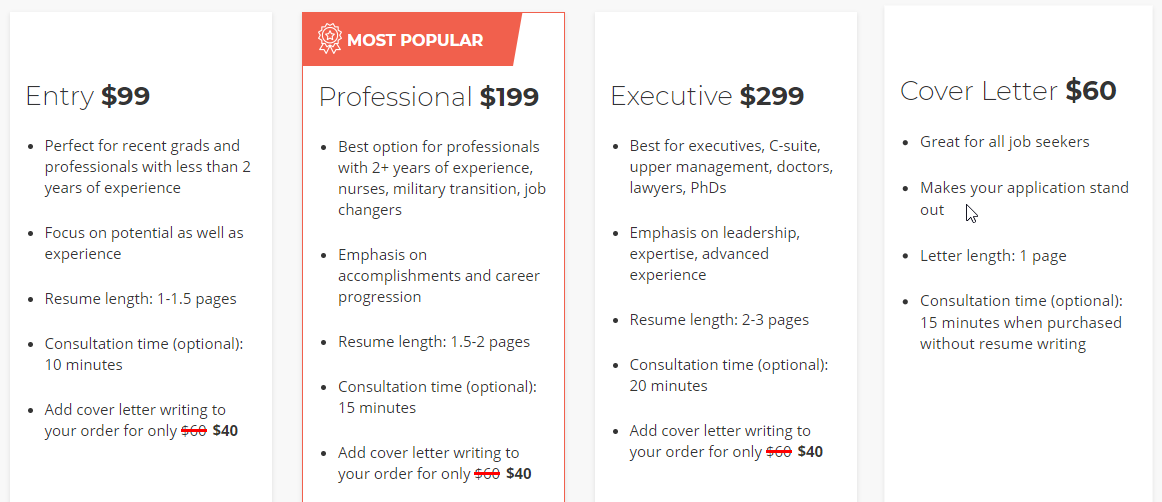 Livecareer resume builder represents an option for students who don't know how to write their resumes or cover letters. However, we consider that the prices charged are very expensive, so not all students can afford to pay for such services. The entry level Resume costs around $100, while if you choose the Executive package you will need to pay $300. For one page of Cover Letter writing you need to take out of pocket about $60. We also read quite a few complaints online regarding the high prices charged by this company.
Guarantees
You can read as many livecareer reviews as you wish, and you will see that they do not offer any guarantees. You cannot find here the money back guarantee or the plagiarism guarantee. We consider these two guarantees extremely important, and it is very disappointing that they do not offer even some free templates that you can check.
LiveCareer: is it free? Absolutely not, and you are not backed up by any guarantee.
Online Reputation
We have checked several genuine live career reviews so that we can give you a very honest and clear picture about this company. We can tell you this company is legit, but the services offered are not the best. We could not verify if the writers they hire indeed have higher academic degrees. This is a big problem, because there many scam companies out there which are only after your money and don't offer any good quality work in return.
Deadlines
In order to create an unbiased livecareer review, we have placed an order with this company. Unfortunately, they missed our deadline twice, so we consider this is not a reliable company. When you need help urgently with a cover letter, you should be able to rely on a trustworthy company. LiveCareer specifies in the terms and conditions section that they always respect the deadlines. However, they do not respect the customer or the deadlines.
Support
This live career resume builder company has an extremely weak customer support service. They are not available on a 24/7 basis as they advertise. They also do not have the instant chat option for any questions or concerns. We wanted to contact them for questions about our refund, but nobody answered. We truly believe this company has a scam customer service.
Usability
We tried to build a cover letter with the provided tools online. We did not manage to build our letter, but the payment was already made. After several hours of trying to contact them, we finally got some help. Even so, the thank you letter and the cover letter we built with the tools were of the lowest possible quality.
Conclusion
This live career resume review is based solely on verified facts and our independent opinion as a team of reviewers. We strongly believe this company does not offer any advantageous or good quality services for students and job seekers. We also recommend you should further investigate to find a truly flexible and honest company that can help you with all your Resumes, CVs and thank you letters that you need.
Top-Rated Resume Writing Services

| | | | |
| --- | --- | --- | --- |
| 1. | | Rating 4.9 | |
| 2. | | Rating 4.5 | |
| 3. | | Rating 3.8 | |